San Antonio – October 2020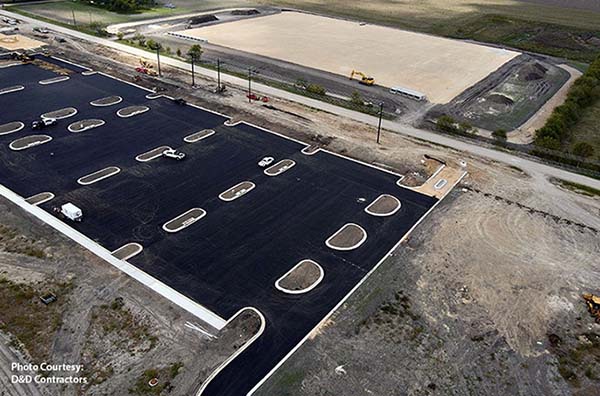 Back in November 2019, the City of Cibolo hosted a groundbreaking for the new $400 million Aisin AW automatic transmission plant. Aisin AW, the parent company of AW Texas, is planning to start operations September of 2021 and will bring approximately 900 jobs to the region by 2023. CDS Muery is proud to be part of this project which is a game-changer not only for the City of Cibolo but also for the entire South Central Texas region. CDS Muery has been working with the City of Cibolo Public Works Department and Guadalupe Valley Electric Cooperative (GVEC) on the infrastructure needs for the transmission plant.
CDS Muery has been providing engineering and surveying services to the City of Cibolo for the reconstruction of sections of Bolton Road and Santa Clara Road adjacent to the proposed AW Texas transmission plant. The reconstruction and widening of Bolton and Santa Clara will be designed to accommodate the anticipated traffic for the initial opening of the plant and future thoroughfare enlargement. CDS Muery has provided an array of engineering services on this development from schematic design to utility design, along with a traffic control plan (TCP) that will be critical to the timely completion of the project and the safety of the traveling public.
We have also been working with GVEC on the site development of the new Santa Clara Substation to accommodate the complete electrical infrastructure needs of the facilities being developed, as well as for future growth in the area. The sale by GVEC of this 159-acre tract of land paved the way for the AW Texas project. CDS Muery is providing engineering design site development and surveying services for the site that included annexation/zoning, platting, site plan and construction plan designs.
Below is an overview of the services CDS Muery has provided on this milestone project:
Project Management
Drainage Design
Roadway Design
Utility Design
Transmission Line Design
Substation Site Development
Surveying Services
Construction Phase Services